Custom Point of Purchase Display



Custom Point of Purchase Display

■



A custom point of purchase, or POP, display is an eye-catching product presentation that shows your best products in high-traffic areas. For example, in retail settings, a POP display near the counter gets the attention of nearly every customer that comes into your store.
From digital printing to endcap displays, there is a point of purchase display for every industry need.



Create New Customers with Retail
Signage and POP Displays

■



Expanding your customer base is the key to growing your business. Eye-catching signage and custom retail POP displays are excellent marketing techniques to increase brand awareness and influence customers' buying decisions.
Whether it is a floor display near the aisle or a counter-top display by the register, a POP advertisement is a valuable marketing tool that benefits every type of business.
At KDM, we know that every business is unique. That's why we offer custom point of purchase (or POP) displays to reflect your company's unique products and services.
Temporary POP Displays
As the name implies, temporary POP displays are used for temporary or seasonal promotions. From yard sale signs to holiday banners, a temporary POP display promotes your product using personalized and affordable material.
Permanent Point of Purchase Displays (POP Displays)
A permanent custom display consists of high-quality material with a long lifespan. A permanent POP display can act as promotional signage to grab customer attention as they walk by or to show off your business at a trade show.
Countertop Point of Purchase Displays
Counter displays can sway a customer to purchase a last-minute item while checking out.
Pallet Displays
Custom displays for pallets are easy to apply and can quickly promote your palletized products.
Floor Displays
As a highly versatile and eye-catching design, a floor display is one of the most popular options for a retail store. This custom retail product display is used in many retail spaces, such as grocery and department stores.



Where You Can Use Point of Purchase
Displays

■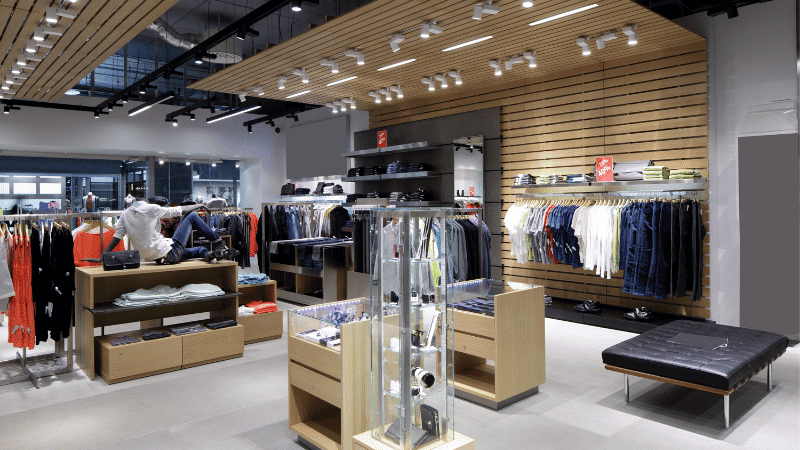 One of the best things about POP displays is that they benefit nearly every type of business.
Retailer
From clothing to other merchandise, retailers can use custom POP displays to introduce new items or promote current products.
Auto Dealers
Although most display stands can't fit cars on them, they can hold flyers or smaller car-related items to promote other auto dealer services.
Banks
While banks aren't always looking to increase sales, they offer their customers several services. For example, a POP display can promote the bank while offering customer's smaller items like checkbooks.
Construction Companies
Construction companies can effectively advertise their unique services through banners, signage, and other customer POP displays.
Community Events
Have a marathon coming up? Keep the community informed with custom displays and banners.
Sporting Events
From event advertising to promotional items for the team, POP signage and displays can help promote any type of sporting event.
Restaurants
Custom retail product displays help restaurants promote their special menu items, drink specials, and their other services.



Benefits of Point of Purchase Displays

■



Point of purchase displays are more than in-store signage. With custom sizes and endless design possibilities, point of purchase displays uniquely advertise your product with a custom display guaranteed to grab your customer's attention.
KDM offers innovative and professional POP and signage services for businesses across all industries. Our experts can help you find the best floor display or promotional poster to attract customers and promote your products. Our goal is to help you grow your customer base and brand name by providing high-quality and custom marketing products.
Whether you need an attention-grabbing floor display or an eye-catching banner, KDM has you covered. Call us today at (855) 232-7799 to learn more about our services.



Custom Point of Purchase
Display

 Portfolio

■