Brick-and-mortar retail businesses need to do everything they can nowadays to attract shoppers and promote sales. Retail stores can improve their profit margins is using shelf-talkers to increase the conversion rate of visitors to the store. If every shopper finds something, or ideally many things, that they want then every interaction is profitable.



Finding a Competitive Edge

■



Retail businesses have two options when it comes to converting store visits into sales. They can have what the customer wants, or they can make that person want what they have. Advertisements in the aisles and at the point of sale promote both goals. One of the most cost-effective advertising tools is the retail shelf-talker.
Consider the many ways that a shelf-talker can help you guide traffic, engage with shoppers, and provide that final push that persuades a shopper to buy. Shelf-talkers are customizable and varied in their features and their design. Find out how shelf-talkers can make your retail space more effective.



What Is a Retail Shelf-Talker?



A retail shelf-talker is an advertisement that appears on retail shelves. It contains in-store signage that informs customers of new products, sales, and important events.
A shelf-talker displays retail signage in a variety of ways. Some are free-standing. Others attach to sign holders that are attached to store shelves.
Sign holders and other similar devices are convenient because they allow retail signage to be frequently and easily changed. Store managers can move and update signage to keep current as sales begin and end and as different products cycle in and out of inventory.



Designing Custom Shelf-Talkers

■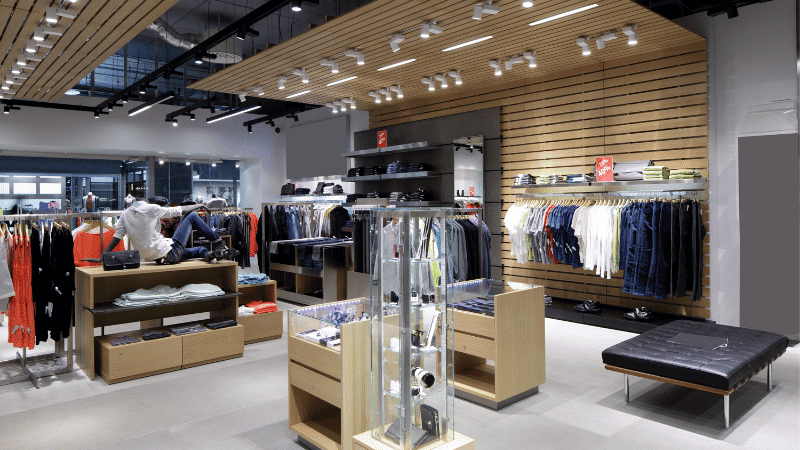 Shelf-Talker Materials
Shelf-talkers are varied in size, shape, and material composition. Most are plastic. Plastic has the advantages of being inexpensive and moldable into different shapes. Shelf-talkers made from other types of material such as metal and wood create a rustic feel suitable for a retailer with an old-fashioned brand image. 
Types of Shelf-Talkers
A central shelf-talker appears at the center of a retail shelf, usually to promote a product on the shelf above it.
An angle shelf-talker allows products to be displayed in tiers.
Hinged shelf-talkers hang down from shelving. They are convenient because they can be flipped up to hide their signage when they are no longer up to date.
Aisle violators are large signs that stick out perpendicular to the shelving. They disrupt the traffic flow, but by doing so they capture attention.
Large and Small Shelf-Talkers
Retail shelf-talkers should be able to display eye-catching displays. It should be portable, sturdy, and inexpensive.
Large signs are ideal for open areas, where crowds gather. They direct the customer's attention to aisles or products that they might otherwise miss. High visibility enables these signs to promote brand recognition by creating a continuous presence for featured brands as the customers shop. 
Small signs are better suited for locations close to the actual product. Shippers can view them up close to obtain details such as pricing or product features.
Positioning Shelf-Talkers
A shelf-talker can appear in many places. One advantage of a plastic shelf-talker is that it can be moved easily throughout the store. Retailers and marketers often tailor the content and layout of shelf-talker signage to match the shelf-talkers' positioning. Shelf-talkers can appear:
■  In the middle of an aisle on a small display stand.
■  On small shelf strips attached to the shelving.
■  On the shelf edge to draw attention to items for sale within a particular aisle.
■  On a free-standing display stand.
■ On register displays near the point of purchase.



How Do Shelf-Talkers Influence the
Behavior of Consumers?



Retail shelf-talker signage has the power to influence customers in many ways:
■  Directing customers' attention toward product displays.
■  Promoting brand awareness for new merchandise or product lines.
■  Promoting awareness of policies such as the return policy or anti-shoplifting policy.
■  Breaking up the monotony of shelving.
■ Indicating the location of a product that is out of stock.
■ Informing consumers about product attributes, such as new features or sale pricing.
■ Leading consumers to purchase a product



Why Do You Need Shelf-Talkers?

■



Retailers benefit from distinctive, customizable signage in many ways beyond the main task of promoting customer awareness. A shelf-talker adds structure and flair to retail locations. This can be an advantage for brick-and-mortar retail locations because they are tangible and guide customers toward physical products that they can hold in their hands.
Custom shelf-talkers contribute to the atmosphere of a location. Consider, for example, how holiday displays on retail shelving can increase sales of seasonal products and associate the retailer with a popular tradition or cultural event.
Shop KDM for Innovative Print Solutions
Designing and producing signage for any business can require a significant part of its marketing budget. Cost-conscious and customized design of signage, coupled with optimal placement, helps to maximize return on investment. An experienced and innovative printing company such as KDM can maximize your return on investment.
If you are looking for the best custom retail shelf-talkers, you'll find KDM specializes in retail print solutions, including signage. We offer customizable products in plastic and other materials at competitive pricing. Don't let your shoppers miss out on your next sale. Call KDM today at (513) 769-3500.



Retail Shelf Talkers Portfolio

■